---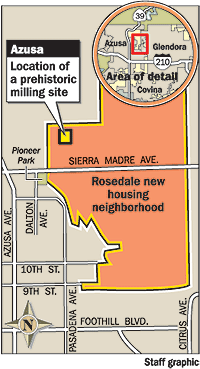 AZUSA – The recently unearthed Native-American camp found on a housing project site was a prehistoric village known as Ashuukshanga, an archaeology firm said Friday.
The camp, which measures 120 feet by 220 feet, is believed to have been a food-processing center for the Tongva/Gabrielino Indians.
Stone slabs used to grind seeds and more than 100 other grinding stones were unearthed on the former Monrovia Nursery property and were documented, preserved, mapped and removed for analysis by Cogstone Resource Management Inc.
The tools were used to process seeds and acorns from local trees and plants including coast live oak, California walnut, prickly pear cactus, California holly and yucca, which remain in the area, according to archaeologists.
The artifacts were found in the northwestern portion of the site, where homes are planned.
John W. Robinson, author of "The San Gabriels," called the find valuable and exciting. He said it's likely one of the best finds and sources of artifacts in Los Angeles County.
"At least 60 rancheros with artifacts have been found in the area, but the other sites, as I remember, don't have very many," Robinson said.
Ashuukshanga was one of the larger villages where aborigines lived in thatched concave enclosures and circular huts.
The city of Azusa took its name from the community, Robinson said.
Officials said no human or animal bones were found at the camp when it was unearthed in December. The announcement of their find was made public Thursday.
A spiritual leader for San Gabriel-based Gabrieleno Band of Mission Indians said he's concerned human bones could still be among the ruins.
Ernie Perez Tautemes Salas also said his ancestors were known to bury funeral items, which should not be dug up for any reason.
"It's exciting to hear about. That area was a trade route to the San Gabriel canyon through the nursery," Salas said.
The former Monrovia Nursery property was sold last year to Azusa Land Partners, which is grading the 520 acres to make way for Rosedale, a 1,250-home neighborhood with parks and a school.
Salas said he didn't mind if homes were built over the processing camp because the artifacts would be safe then.
"When someone died they meant to bury \ and have it left alone," Salas.
The site was originally discovered in 1962 by the UCLA Archaeological Survey. Some of those artifacts are at the Fowler Museum at UCLA.
A representative from Professional Native American Cultural Resource Monitors performed the controlled excavation and preservation of the artifacts along with the archaeological consultant hired by Azusa to monitor land preparation for construction, officials said.
Once the camp was discovered, construction was diverted. The site was then excavated to a depth of more than 6 feet over a five-week period.
A report will be presented to the Azusa City Council and Cultural Heritage Commission that will include analysis of carbon samples from the hearths and residue from the food-preparation tools to determine the age of the site and what local resources were used, Cogstone officials said.
The developer said the artifacts and documentation will be turned over to the museum for more research and education uses.
Azusa resident Art Morales said as a young boy he combed the area for arrowheads, which he would trade or sell to a local man for yo-yos and marbles.
Morales, 67, said they were different colors, made from stone, all sizes, but some had fine detail.
The Azusa Historical and Cultural commissioner said he remembers the last time he sold an arrowhead.
"I was 17 and headed for the Army. I needed to buy a gift for my girlfriend, a real cute white and pink fuzzy stole to keep herself warm while I was gone," Morales said. "Now if I had one, I would cherish it."
---
source: Wittier Daily News – Great Article!